To mark the 154th anniversary of the birth of Mahatma Gandhi, the Embassy of India organized a commemorative event at the Jintai Art Museum in Beijing on October 2. The purpose of the event was to pay tribute to Gandhi's teachings on peace, on how people can change themselves and the wider world, and many of his other beliefs.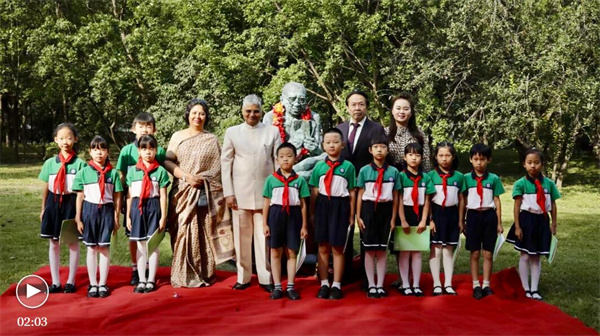 Revered as the "Father of the Nation" in India, Gandhi once observed that China and India were fellow travelers sharing weal and woe on a common journey.
At the commemorative event, Indian ambassador to China, Pradeep Kumar Rawat, offered a floral tribute to Gandhi's statue. Students from the Fangcaodi International School read famous quotes by the former lawyer and activist who espoused non-violent resistance.
Ambassador Rawat said: "Today we talk about sustainability and climate change. And if you look at Gandhi's ideas, which is what he talked about almost 80 years ago, they are the same ideas. He said that in this world, there was enough for man's needs, but not enough to satisfy man's greed. So, he wanted us to live a very sustainable life based on what we need, and not what we desire."
The statue of Gandhi at the Jintai Art Museum in Beijing /CGTN
The statue of Gandhi was sculpted by Yuan Xikun, founder of the Jintai Art Museum, in 2005, and it has become a symbol of China-India friendship.
Yuan said: "The power of role models is boundless, as advanced ideas are not created by a single nation, but are a shared wealth of humanity. I aim to maximize the quality of this art gallery's public cultural service, continuously strengthening it, and enhancing the harmony and balance between its spiritual and material aspects."
As part of the event, embassy staff performed a play depicting how Gandhi's reputation as a profound thinker developed over time. A photo exhibition showcasing Gandhi's values and philosophy is also being held at the Jintai Art Museum.